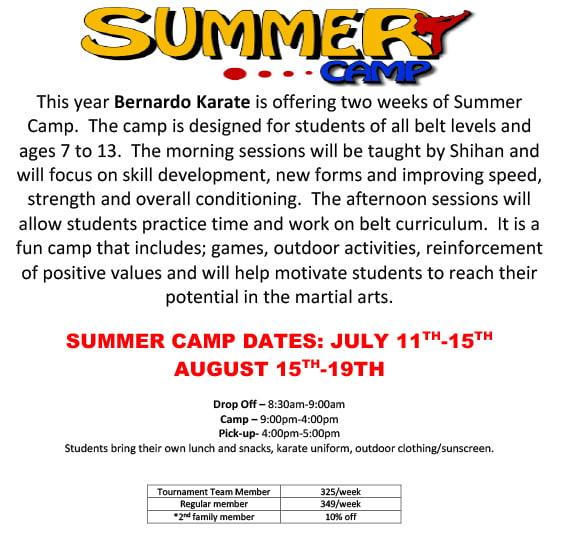 Ready, Set, Let's Go To Bernardo Karate Day Camp!
Weeks offered: July 11th-15th and August 15th-19th
Accelerated martial arts progress, life skills development, fun, fitness and friendship
Our summer day camps will not only develop martial arts skills; we also focus on improving life skills and character traits, independence and friendships
Students will have the opportunity to advance a belt level during camp.
It is also an excellent opportunity for students looking to improve their skills and conditioning for this year's Black Belt testing.
It is also recommended for competition team members and students who might be interested in joining the team this year.
The camp is open to all levels and students ages 8 yrs and up.
Information:
Drop Off Time: 8:30 am – 9:00 am
Camp: 9:00 am – 4:00 pm
Students are responsible for their own lunches and snacks. Weather permitting, campers will go to the park after lunch (sunscreen, appropriate attire and hats are recommended).
Pick-Up Time: 4:00 pm – 5:00 pm
Cost: $325*/week (Tournament Team), $349*/week (Regular Member), 2nd family member receive 10% off
*plus applicable HST