Word of the Month for May is: Responsibility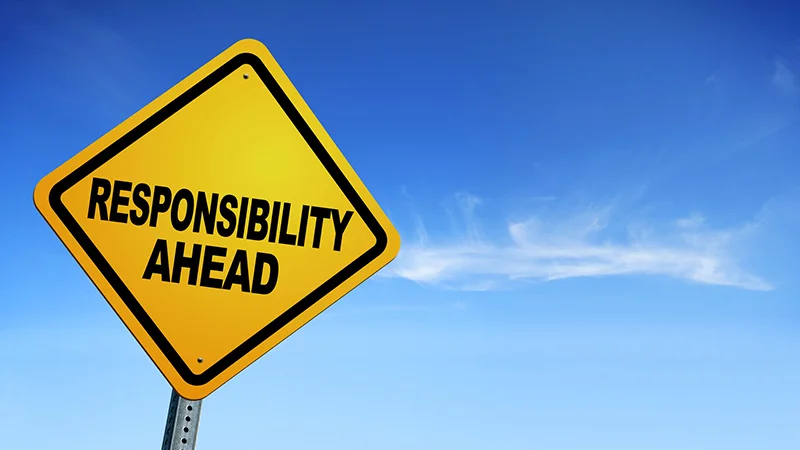 The definition of responsibility:  an obligation or duty; it is a state of being reliable or accountable.
Building responsible students for success in today's world is something we take very seriously at Bernardo Karate.  We believe responsibility is a valuable life skill and trait, so much so, we have added it to our Character Development Program.  We know that teaching responsibility, especially to our younger students will lead to more productive and independent adults later on in life.
It is important to introduce responsibility to students at a young age.  Some of the responsibilities we teach to our Little Dragons (ages 4-6) and youth (ages 7-12) are:
Show up on time
Come with a clean and tidy uniform and belt
Bring a positive and cooperative attitude
Perform exercises and tasks willingly and try your best in every class
Complete monthly assignments on time in their Bernardo Karate Character Development workbooks.
Another way we teach our younger students about responsibility is through our HELPER program.  Intermediate and advanced students are given the opportunity to assist teaching in class with our Head Instructors.  By giving these students responsibilities (such as being in charge of a small group in the dojo) they will feel like they are contributing to the success of others.  When children learn to be responsible they build stronger self-confidence and self-esteem qualities which leads to better relationships with family members and friends, and as they get older, better social skills with their employers and co-workers.
Martial arts helps students accept personal responsibility and learn from any mistakes they make, especially as they strive to achieve their goal and rank of Black Belt.  There is no such thing as perfection, and at Bernardo Karate we teach our students early on that there are rewards in life for being responsible, but that there are also consequences in life for being irresponsible.  Every decision or action they make will have some sort of consequence and they need to accept responsibility for all of them whether they are good or bad.
"We have all heard of the saying, THINK BEFORE YOU ACT OR SPEAK," says Renshi Tammy Bernardo.  "With our teen and adult students, we focus on teaching them that a responsible person takes his or her time to make good decisions."  Renshi Tammy also adds, "Words and actions can be very powerful and we need to be responsible for how we react and respond to others.  We teach our students that these reactions are definitely a reflection of our character."
Everyone needs to learn about responsibility in order to be successful in life and at Bernardo Karate we focus on instilling this skill by providing routine and structure with all of the classes we teach.  Renshi Tammy says, "Life isn't always fun and games but learning to be responsible and taking responsibility for our actions can give a person a better chance at success.  Our martial arts programs teach life skills such as focus, discipline and respect and when combined with responsibility, our students are better prepared to tackle life's challenges in the real world ahead."