Word of the Month for February is: Service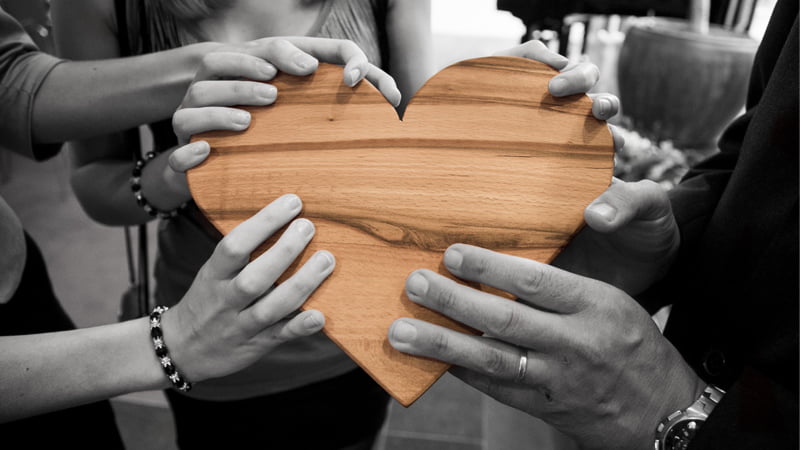 Charity, almsgiving, good will, altruism, philanthropy, humanitarianism, community service are all examples of ways individuals can give back or volunteer to help others in need.
Most of the words-of-the-month we discuss in our Striving for Excellence program at Bernardo Karate focuses on ourselves and how we can become better individuals.  But with service, Renshi Tammy Bernardo says, "you have to look beyond that and expand outwards.  We all have gifts and talents unique to us that we should be sharing with others.  Each person's definition of giving is going to be different.  We hope through your martial arts training you will develop a greater sense of community and look for different opportunities to help others in need around you."
At Bernardo Karate we believe teaching about service can have lasting and positive effects on our martial arts students.  We know acquiring a service mentality takes practice and that is one of the reasons why we feel it is so important to spend time in the dojo talking to our students about it, reminding them to work on it and making them understand the more they help others, the more they appreciate what they themselves have.  Helping our students develop their sense of service will also make them less likely to fall into the entitlement trap and therefore become less self-centered and more empathetic individuals.
There are several traits and values associated with service that we incorporate into our Bernardo Karate martial arts teachings.  These traits are not new to the martial arts community.  For example, our Black Belt Instructors teach and encourage our students to embody the tenets or the principals set out by the 'father of modern day karate,' Gichin Funakoshi.  Gichin Funakoshi brought his teachings from Okinawa to Japan in 1922.  Two of these principals include the traits or values of humility and respect.  Humility teaches us to be grateful for what we have and the experiences we go through.  Furthermore, in terms of service, a humble student develops into a kinder, more compassionate and appreciative individual who desires to give back and help others.  Showing genuine respect to someone in need helps build their confidence and their sense of worth and this can have a huge impact in how they respond to your generosity no matter how big or small it may be.  Being mindful and non-judgemental of each individual we help can help us connect and contribute to our communities in a more meaningful way.  We have expanded these principals and concepts of service even further in our Bernardo Karate BBM (Black Belt member) "Helper" program.
In our BBM HELPER program students volunteer to assist our Head Instructors in our martial arts classes.  With this program, we are teaching our "Helpers" practical skills and helping them develop certain gifts, talents and interests they might have with teaching and helping others.  "Our HELPERS develop leadership, communication and organizational skills and learn the value of teamwork.  They are also learning about responsibility by volunteering their personal time," says Renshi Tammy. "In turn, we reinforce how these skills can be used outside of the dojo where they can contribute to improving their community and other people's lives." Renshi Tammy also adds, "Several of our teen and adult students put our HELPER program on their resumes under their Community service/volunteer work.  The experiences and skills gained from our HELPER program are definitely an asset to any future employers."  We ultimately want our students to experience joy in their volunteer work and to feel a natural sense of accomplishment by seeing someone benefit from their help.  We do everything we can to make sure their HELPER program experience is a positive and enriching one so when other volunteer opportunities arise they won't hesitate to participate.
Giving back to the community is an important aspect and priority of Bernardo Karate.  We are very fortunate to have several of our Black Belt students volunteer their time and talents to a non-profit organization in London, Ontario called Kids Kicking Cancer/Heroes Circle.  These martial artists are taking what they have learned in the dojo (for example – breathing, visualization and relaxation techniques) in addition to traditional martial arts moves to help empower children and provide them with a sense of POWER, PEACE & PURPOSE.  We all feel very grateful that we can use our martial arts training and help children who are dealing with pain and illness.  It is an honour and a privilege to volunteer for this amazing organization.  For more information please visit www.kidskickingcancer.org or www.kidskickingcancer.ca.
Other ways Bernardo Karate and our students and their families have been involved in the community are through our annual canned food drives for the London Food Bank, toy drives for The Salvation Army and local Women Shelters and our Kids Kicking Cancer Cardio-a-thon and Kick-a-thon.  We are very grateful and excited to have like-minded individuals that want to make a difference in our London community.
Being of service and happy to volunteer our time and talents to help others does not always feel natural or come easy to everyone, and that's okay.  But together, we can all learn to be kind to one another and offer a little more of ourselves to those who need help.  How do we encourage this of our younger students? By asking them ways they see daily opportunities to help someone else. Maybe it's their sibling or fellow student, but being able to recognize the opportunity, and following through, is part of the lesson.
Our ultimate goal with teaching about service at Bernardo Karate is for our students to take what they learn in the dojo and apply it to their everyday lives at home, at school, where they are employed or in volunteer opportunities in their communities. We want our students to make a difference.  Even if it is a small gesture like a smile or a few positive words of encouragement, we want our students to know that even small acts of kindness can make a huge difference in someone else's life.