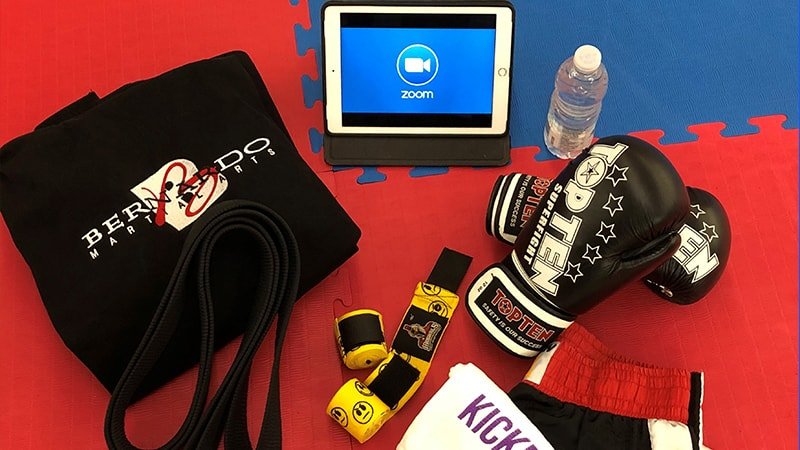 For students continuing to use our Bernardo Karate Zoom platform please click the appropriate links and times found on our website.  Students from ALL of our Bernardo Karate locations need to follow our OXFORD karate schedule for Zoom and not the dojo they belong to.  Shihan and our Black belt Instructors are running all of the Zoom classes out of our OXFORD location.  If you have any questions regarding Zoom please contact our Head Office at 519-659-2504. 
ZOOM details and tips:
You do not have to have a Zoom account to attend a Zoom karate class. You will be prompted to download the software, once you have clicked on the link that we will provide to you.
You may also wish to create an account, but that is not required to participate in a Zoom meeting. Again, anyone can join our karate classes using the Zoom mobile apps or desktop applications for Windows and Mac. It is FREE!
Here are a few short zoom tutorial links if you need them:
https://youtu.be/hIkCmbvAHQQ
https://www.youtube.com/watch?v=fGbpwZNW3oI
Shihan will be able to see participants on his screen so be sure to wear your full karate uniform. Also, it goes without saying, for our Little Dragons and younger students, please be on your best behavior just as you would be at the dojo. We realize there are distractions at home, but even at school we need to use our listening skills and practice discipline and focus when there are other things going on around us.
Zoom Schedule for all 5 Bernardo Karate Locations
We are providing karate classes on Zoom for all members.  All 5 of our dojos will follow the same schedule.
Click the link below to view the online Zoom schedule: