Zoom Details, Tips and Karate Schedules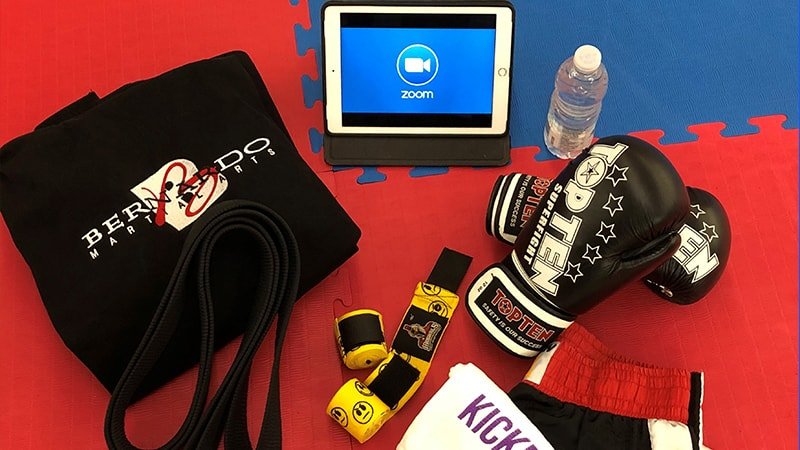 ZOOM details and tips:
You do not have to have a Zoom account to attend a Zoom karate class. You will be prompted to download the software, once you have clicked on the link that we will provide to you.
You may also wish to create an account, but that is not required to participate in a Zoom meeting. Again, anyone can join our karate classes using the Zoom mobile apps or desktop applications for Windows and Mac. It is FREE!
Here are a few short zoom tutorial links if you need them:
https://youtu.be/hIkCmbvAHQQ
https://www.youtube.com/watch?v=fGbpwZNW3oI
Shihan will be able to see participants on his screen so be sure to wear your full karate uniform. Also, it goes without saying, for our Little Dragons and younger students, please be on your best behavior just as you would be at the dojo. We realize there are distractions at home, but even at school we need to use our listening skills and practice discipline and focus when there are other things going on around us.

Tuesday's
Topic: Little Dragons
Time: Jun 9, 2020 05:00 PM America/Toronto
Every week on Tue, until Jul 7, 2020, 5 occurrence(s)
Jun 9, 2020 05:00 PM
Jun 16, 2020 05:00 PM
Jun 23, 2020 05:00 PM
Jun 30, 2020 05:00 PM
Jul 7, 2020 05:00 PM

Join Zoom Meeting
https://us02web.zoom.us/j/87928337407?pwd=SEgybVdyUGVHRkdYam5BV1d2VGFkQT09
Meeting ID: 879 2833 7407
Password: 968536
Topic: Novice/Intermediate- white to red belt
Time: Jun 9, 2020 05:30 PM America/Toronto
Every week on Tue, until Jul 7, 2020, 5 occurrence(s)
Jun 9, 2020 05:30 PM
Jun 16, 2020 05:30 PM
Jun 23, 2020 05:30 PM
Jun 30, 2020 05:30 PM
Jul 7, 2020 05:30 PM

Join Zoom Meeting
https://us02web.zoom.us/j/88641672695?pwd=TmVQeUdMdkFlbE02NDZMaXBXYTd2UT09
Meeting ID: 886 4167 2695
Password: 015197
Topic: Advanced- Green to Black belt (youth & adult)
Time: Jun 9, 2020 06:00 PM America/Toronto
Every week on Tue, until Jul 7, 2020, 5 occurrence(s)
Jun 9, 2020 06:00 PM
Jun 16, 2020 06:00 PM
Jun 23, 2020 06:00 PM
Jun 30, 2020 06:00 PM
Jul 7, 2020 06:00 PM

Join Zoom Meeting
https://us02web.zoom.us/j/82040613925?pwd=cWJyRGhPNlBGVXQrNUJ0eDhqMUM2UT09
Meeting ID: 820 4061 3925
Password: 110567

Wednesday's:
Topic: Tournament team training
Time: Jun 10, 2020 10:00 AM America/Toronto
Every week on Wed, until Jul 8, 2020, 5 occurrence(s)
Jun 10, 2020 10:00 AM
Jun 17, 2020 10:00 AM
Jun 24, 2020 10:00 AM
Jul 1, 2020 10:00 AM
Jul 8, 2020 10:00 AM

Join Zoom Meeting
https://us02web.zoom.us/j/85485132881?pwd=YXNuOHZNV1lIS1RvdlU0cTNWVFdoUT09
Meeting ID: 854 8513 2881
Password: 447988
Topic: Brown Belt review
Time: Jun 10, 2020 11:00 AM America/Toronto
Every week on Wed, until Jul 8, 2020, 5 occurrence(s)
Jun 10, 2020 11:00 AM
Jun 17, 2020 11:00 AM
Jun 24, 2020 11:00 AM
Jul 1, 2020 11:00 AM
Jul 8, 2020 11:00 AM

Join Zoom Meeting
https://us02web.zoom.us/j/86886990576?pwd=dDNSYis5RmlycFc1NW5xMEdnYytxQT09
Meeting ID: 868 8699 0576
Password: 562578
Topic: Adult and Junior Black belts
Time: Jun 10, 2020 05:00 PM America/Toronto
Every week on Wed, until Jul 8, 2020, 5 occurrence(s)
Jun 10, 2020 05:00 PM
Jun 17, 2020 05:00 PM
Jun 24, 2020 05:00 PM
Jul 1, 2020 05:00 PM
Jul 8, 2020 05:00 PM

Join Zoom Meeting
https://us02web.zoom.us/j/85113160439?pwd=Y3hIMUV0allKM1dabzhsUnhSUmw2dz09
Meeting ID: 851 1316 0439
Password: 633512

Thursday's:
Topic: Little Dragons
Time: Jun 11, 2020 05:00 PM America/Toronto
Every week on Thu, until Jul 9, 2020, 5 occurrence(s)
Jun 11, 2020 05:00 PM
Jun 18, 2020 05:00 PM
Jun 25, 2020 05:00 PM
Jul 2, 2020 05:00 PM
Jul 9, 2020 05:00 PM

Join Zoom Meeting
https://us02web.zoom.us/j/87536977198?pwd=ZEFzcnNUdGFOTXJNQ1lEWlh3ZFJxdz09
Meeting ID: 875 3697 7198
Password: 161104
Topic: Novice/Intermediate- white to red belt
Time: Jun 11, 2020 05:30 PM America/Toronto
Every week on Thu, until Jul 9, 2020, 5 occurrence(s)
Jun 11, 2020 05:30 PM
Jun 18, 2020 05:30 PM
Jun 25, 2020 05:30 PM
Jul 2, 2020 05:30 PM
Jul 9, 2020 05:30 PM

Join Zoom Meeting
https://us02web.zoom.us/j/89528082448?pwd=eTQ1a2dFRklPUUs2aEpYNnRMVFpOUT09
Meeting ID: 895 2808 2448
Password: 448556
Topic: Advanced- Green to Black Belt (youth & adult)
Time: Jun 11, 2020 06:00 PM America/Toronto
Every week on Thu, until Jul 9, 2020, 5 occurrence(s)
Jun 11, 2020 06:00 PM
Jun 18, 2020 06:00 PM
Jun 25, 2020 06:00 PM
Jul 2, 2020 06:00 PM
Jul 9, 2020 06:00 PM

Join Zoom Meeting
https://us02web.zoom.us/j/89245513304?pwd=MC9DNVk3OWhiRVRGMTRiVDRNZW9Gdz09
Meeting ID: 892 4551 3304
Password: 004046
If you have any questions at all, please do not hesitate to call us at our main Bernardo Karate headquarters (519-659-2504) or message us here on Facebook or email us through our website at oxford@bernardokarate.com