Ontario Grand Nationals Results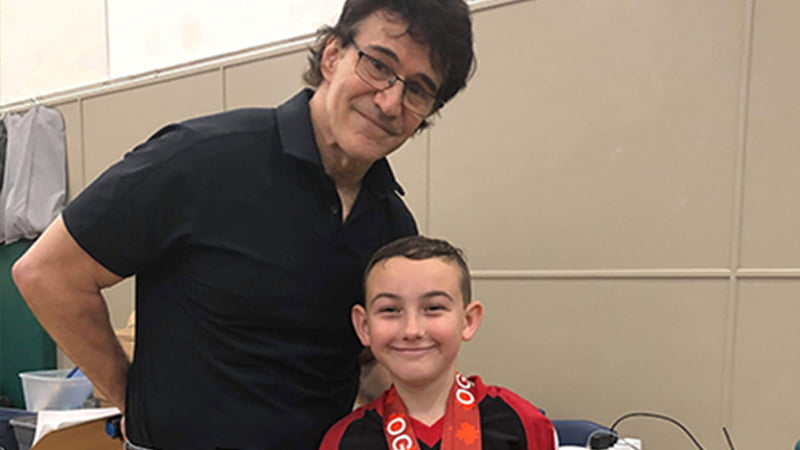 Image above of Youth competitor, Kaleb Boyle with OGN Promoter, Shihan Michael Bernardo.  Kaleb won the 10 and under, 2019 Junior Black Belt forms Grand Championship.  This is Kaleb's second year in a row winning the Grand Champion forms title! Congratulations! 
We would like to thank everyone who came out to support this year's 2019 Ontario Grand Nationals tournament yesterday. Our 7 am volunteers for set up and our volunteers for registration came bright and early and contributed to our tournament's punctual 9 am start time. We had numerous volunteers for refereeing, judging and score keeping and appreciate everyone's time and energy to keep things running smoothly. Some of the kid's divisions had over 25 competitors so we are very thankful for everyone's patience and organization skills! Thank you to all of the spectators for respecting the areas of competition and keeping our mats free and clear and safe for our competitors. Thank you to all of the competitors for their sportsmanship and for making our tournament one of the most competitive competitions in Ontario. We are forever grateful for all of our Bernardo Karate staff, students and families who came out to contribute to our successful event yesterday. We cannot run a tournament of this size without all of your help so we wanted to say thank you and hope you all know how much your support means to us!

Congratulations to all of the competitors and to all of the following 2019 OGN Grand Champions:
Kaleb Boyle (10 and under) Jr BB
Noah A Sansait (11-12 yrs) Jr BB
Mateja Elaschuk (13-14 yrs) Jr BB
Ty Pravong (15-17 yrs) Black Belt
Andrea Elaschuk Women's forms/weapons BB Grand Champion
Julian Shamuon Men's forms/weapons BB Grand Champion
Robbie Lavoie Men's sparring Grand Champion
Savannah Wolaniuk Women's sparring Grand Champion
We are also very proud of our students. We had several students who competed for the very first time. Regardless of how you placed, we hope you are motivated to train harder and improve for your next competition. The next tournament our school is supporting is the East West Karate Challenge in Mississauga on Saturday, October 19th. We will be taking pre-registrations at our Oxford Studio.