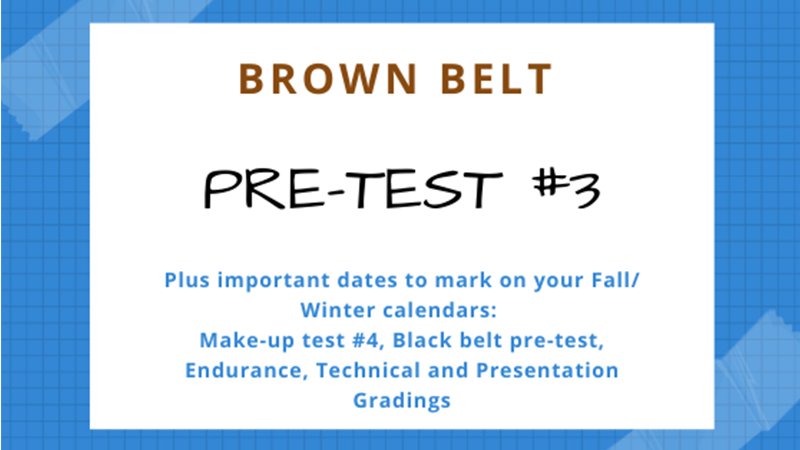 Shihan has scheduled Brown belt pre-test #3 for Saturday, October 3rd. We have set aside 5 different time slots for Brown belts to test for the katas – Kanku sho and Kanku dai. The testing times will start at 9:30 am, 10:15, 11:00, 11:45, 12:30 pm and 1:15 pm. Brown belts need to call our Oxford Studio 519-659-2504 to select a testing time. Space in each group is limited.
Brown belts can also wait until the "make-up" pre-test #4 on Saturday, November 7th to test for these katas or any other kata they might have missed.
Our Black Belt pre-test for all Black Belts testing for higher degrees will be held on Saturday, November 7th. At this time Black belts will be pre-tested for all their katas prior to the endurance and technical tests.
The Endurance Grading will be held November 13th-15th. As of today we will hold several endurance tests over the weekend. Each one will still be 3 hours in length, however we will break the students into smaller testing groups. We will use the Oxford Studio and all three workout areas during the test (similar to how we tested previous years when our groups were smaller).
The Technical Grading will be the held the following weekend, November 20th-22nd. We will use a similar format of several tests with smaller groups.
The Presentation Ceremony will be held on Saturday, December 5th.
We will provide more detailed information as we get closer to the dates.